Description
Description
The new Maxi-Cosi Lila is the best start for your baby. With the Lila, you can be sure that you are providing the best comfort for your child. Wherever you go, your baby will feel secure and cozy thanks to the ergonomic ShapeOfYou inlay. Once your baby grows out of the inlay, our thermo-regulated reversible mattress will keep your child comfortable no matter the temperature outside. Lila makes your life easier thanks to its one-hand folding and removable shopping basket.Working together with pediatricians, Maxi-Cosi created the most ergonomic memory foam inlay for your newborn (from 0 to 4 months), to support the development of your baby the best way possible in the early months.
The ShapeOfYou inlay reduces the space around the body providing babies with a feeling of security. The cushion also lifts the legs into a natural position, helping to reduce reflux. The shaped cavity reduces pressure under the head thereby helping to prevent flat-head syndrome. The integrated nap keeper creates an unique cocooning atmosphere for your baby offering protection from bright sunlight and mosquitoes.
The reversible mattress keeps toddlers comfortable throughout the year regardless of the temperature; breathable 3D mesh for the summer; soft fleece for the winter.
Lila makes your life easier. With one hand, you can easily transform the seat into a lie-flat bassinet. The one-hand folding system also makes the stroller very convenient to collapse and store. The extra large removable shopping basket enables you to stow away your belongings or take them with you.
Enjoy long strolls with your baby thanks to the long-lasting and lightweight innovative wheel technology, SmoothRide. Maxi-Cosi Lila grows with your family. From now on, you don't need to do compromise on convenience or the comfort of your baby.
Best-in-class comfort and safety for baby:
Includes car seat adapter for use with Maxi-Cosi Mico infant car seats
Transformable seat with multiple recline positions for use from birth
Reversible seat
ShapeOfYou ergonomic newborn memory foam inlay designed with pediatricians
Reversible, thermo-regulated mattress: breathable mesh for summer time; soft warm fleece for winter time
Integrated nap keeper to create additional shade
Bootcover included
Big UPF 50+ canopy with peek-a-boo window
Rain cover and bumper bar included
Maxi-Cosi genuine 5-point harness
4 shock-absorbing suspensions
Light reflectors on the canopy
Ease of use for parents:
Fast one-hand folding
Automatic lock
SmoothRide long-lasting wheels: new bimaterial wheels for greater durability
Front wheels can be locked for more maneuverability
Removable shopping basket for easy access without excessive bending
Easy-braking system
Transforms into duo stroller for children close in age (sold separately)
Specifications:
Supports a child from birth up to 50 lb.
Stroller weight: 28 lb.
Open dimensions: 33″ L x 24″ W x 45″ H
Benefits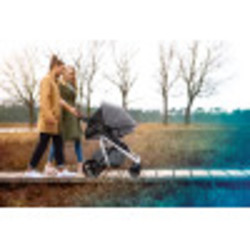 More Comfortable for Baby
Comfort is the peace of mind knowing your little one is cozy and secure. Lila delivers extraordinary comfort to be sure baby rests in the next best place after your arms.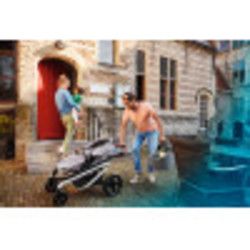 More Convenient for You
Lila offers more to make life a bit easier for you. With convenience features like a simple one-hand fold and removable tote along with a parent cup holder, accessory pouch and child snack tray you can feel confident you have what you need on every family outing.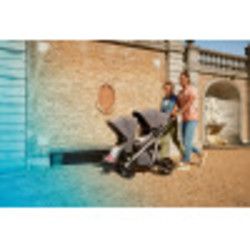 More Options for Your Growing Family
When the time is right, Lila easily switches from a single to duo stroller by adding either a Mico infant car seat or second seat. Duo mode allows for various riding configurations accommodating both baby and toddler. (Mico sold separately. Lila Duo Seat kit available Spring 2019).
Features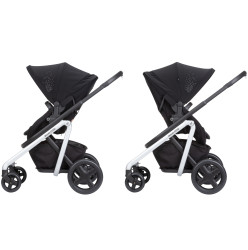 Choose your view
Modular, multi-position reclining seat for parent- or world-facing positions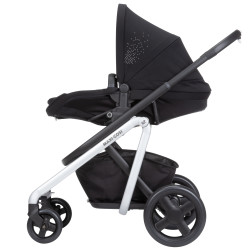 Quick-Carriage
Carriage mode with the touch of a button for comfy, lie-flat napping on the go
ShapeOfYou Support
ShapeOfYou ergonomic newborn inlay designed with memory foam for added support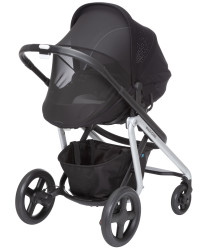 Privacy Shade
Generous UPF 50+ canopy with integrated mesh privacy shade keeps baby protected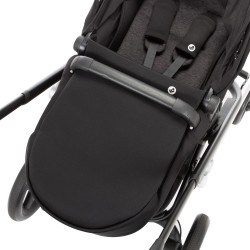 Carriage Boot Cover
Boot cover keeps baby warm and cozy in carriage mode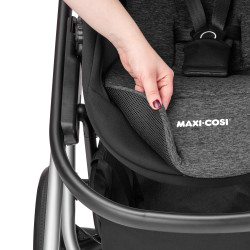 Seat Cushion
Reversible seat cushion for warm and cool climates; machine washable for an easy clean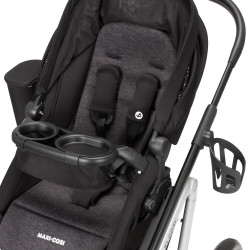 Accessories
Accessories to make life easier for you are all included. Bumper bar, child snack tray, parent cup holder, accessory pouch, rain shield, reversible seat cushion, removable tote and car seat adapters.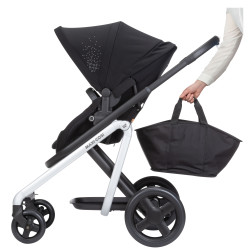 Removable Tote
Removable tote basket makes it easier to carry your belongings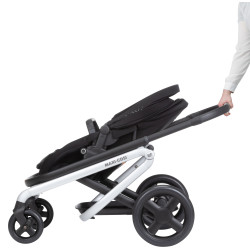 One-hand Fold
One-hand flat fold allows for a free second hand
SmoothRide Wheels
SmoothRide innovative tire technology with all-wheel suspension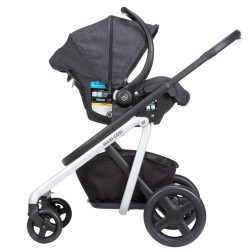 Car Seat Carrier
Compatible with Mico infant car seats using the included adapters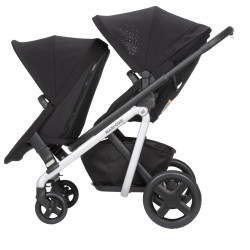 Make Room for Two
Easily switches from a single to duo stroller by adding either a Mico infant car seat or second seat (sold separately)
***Please allow 7-10 days for local pickup or 10-14 days to ship to home